Drug Traffickers Returning to Caribbean
More of the cocaine smuggled to the United States is passing through the Caribbean, officials said, representing a shift in which drug traffickers are returning to a region they largely abandoned decades ago.
A full 14 percent of cocaine bound for the U.S. was trafficked through the Caribbean in the first half of 2013, double the 7 percent that came through the region during the same period a year earlier, according to the U.S. Drug Enforcement Agency.
"What we're seeing is that traffickers are increasing the amount of cocaine in each" shipment, said Vito S. Guarino, special agent in charge of the DEA's Caribbean division, based in Puerto Rico.
Dominican Republic Changes CItizenship Rules
the Dominican Republic's top court ruled that children of immigrants – like Jean Joseph – do not qualify for citizenship even if they were born here.
In a ruling that shocked both national and international observers, the Dominican Constitutional Court ordered authorities to review the civil registry dating back to 1929, potentially stripping citizenship from hundreds of thousands of people, and creating a massive population of stateless people.
"This would qualify as one of the largest populations of functionally stateless people in the world," says Liliana Gamboa, a Santo Domingo-based representative for the Open Society Justice Initiative.
Read more at csmonitor.com
The Tale of Two Malls: How the Dominican Republic Benefits from Venezuelan Capital Flight
Hugo Chávez, who died in March, antagonized private businesses, especially small and medium-sized enterprises, spurring them to take their money elsewhere — leaving Venezuela struggling to attract investment to fix its crumbling infrastructure.
Not only has money failed to come in, but Barclays Capital, an international investment bank, estimates companies have taken some $150 billion out of the country since currency exchange controls were instituted a decade ago. In part, they were supposed to prevent capital flight. An average of $20 billion a year has been sent abroad over the past five years.
'Eat a lion' and save the Caribbean from an invasive species
Lionfish share little with their big cat namesake other than a fan of fins that resembles a flowing mane and, more importantly, a voracious appetite. The fish gobble up the small native fish that are an integral piece of the food chain and an important link in maintaining dazzling underwater seascapes. With no natural predators or diseases to keep the population in check, lionfish are now found on nearly every coral reef from New York to Venezuela and they are multiplying fast. Lacking other options, conservationists are pushing a simple message: capture them and cook them. Fishing communities are learning how to catch and process lionfish, which carry a painful dose of venom in their fins. And restaurants and markets are trying to sell the white flakey filets, which taste like snapper or grouper.
Read more at the Christian Science Monitor.
Dominican Republic: World's Most Dangerous Roads for Drivers
Widespread disregard for personal safety and obeying the rules of the road has helped contribute to the World Health Organisation (WHO) ranking this Caribbean nation of 10 million as the world's most dangerous country for drivers. The 2013 report found there were 41.7 motoring deaths per 100,000 residents in 2010, nudging it ahead of Thailand.
Dominican officials are trying to change a system that has allowed – some say even encouraged – a culture of indifference toward traffic rules and road safety. A proposed law, expected to be voted on by the lower chamber of congress in the coming weeks, would overhaul traffic agencies and put in place a campaign to incorporate driver education into school curriculums.
Read more in The Guardian
Dominican Republic and Haiti at odds over trade of chickens
Dominican farmers are frantically trying to sell off a half-million hens locally because Haiti no longer wants them — or their eggs. The month-old "chicken war" erupted after Haiti falsely accused the Dominican Republic of a bird flu outbreak and re-enforced a ban on chicken and egg imports.
The row involves much more than poultry. At its core is a trade imbalance between the two countries that's heavily tilted in favor of the Dominican Republic, whose influence and products have been rising in Haiti since the devastating Jan. 12, 2010 earthquake made Haiti a cash cow for Dominican businesses
Incoming Ambassador Praised, Rejected
President Barack Obama's choice for ambassador to the Dominican Republic is part of an historic class of nominees that would more than double the number of openly gay top diplomats to have ever held the post. Fresh off gay rights victories in the Supreme Court, Obama chose gay men for the diplomatic post in four countries and one Europe-based intergovernmental organization.
But the choice of James "Wally" Brewster, a top campaign fundraiser and prominent gay rights activist in Chicago, has angered religious leaders in this deeply Catholic country, sparking fears that the U.S. is trying to export gay rights.
Small Island, Big Problems
Instead of celebrating its newfound freedom, Curacao finds itself wading through a political crisis. The murder of a leading politician in an unprecedented act of violence against a public official capped a string of events that has left the young country questioning its future.
Read more at The Christian Science Monitor
Caribbean Becoming Hotbed for Film Production
In trying to become a film mecca, the Dominican Republic faces stiff competition from within the United States and abroad. Since Canada became the first country to offer incentives two decades ago, 41 U.S. states — Florida among them — and dozens of international locations have offered their own packages, ranging from tax breaks and rebates to subsidies.
Read more at The Miami Herald
Venezuela's Personal Jesus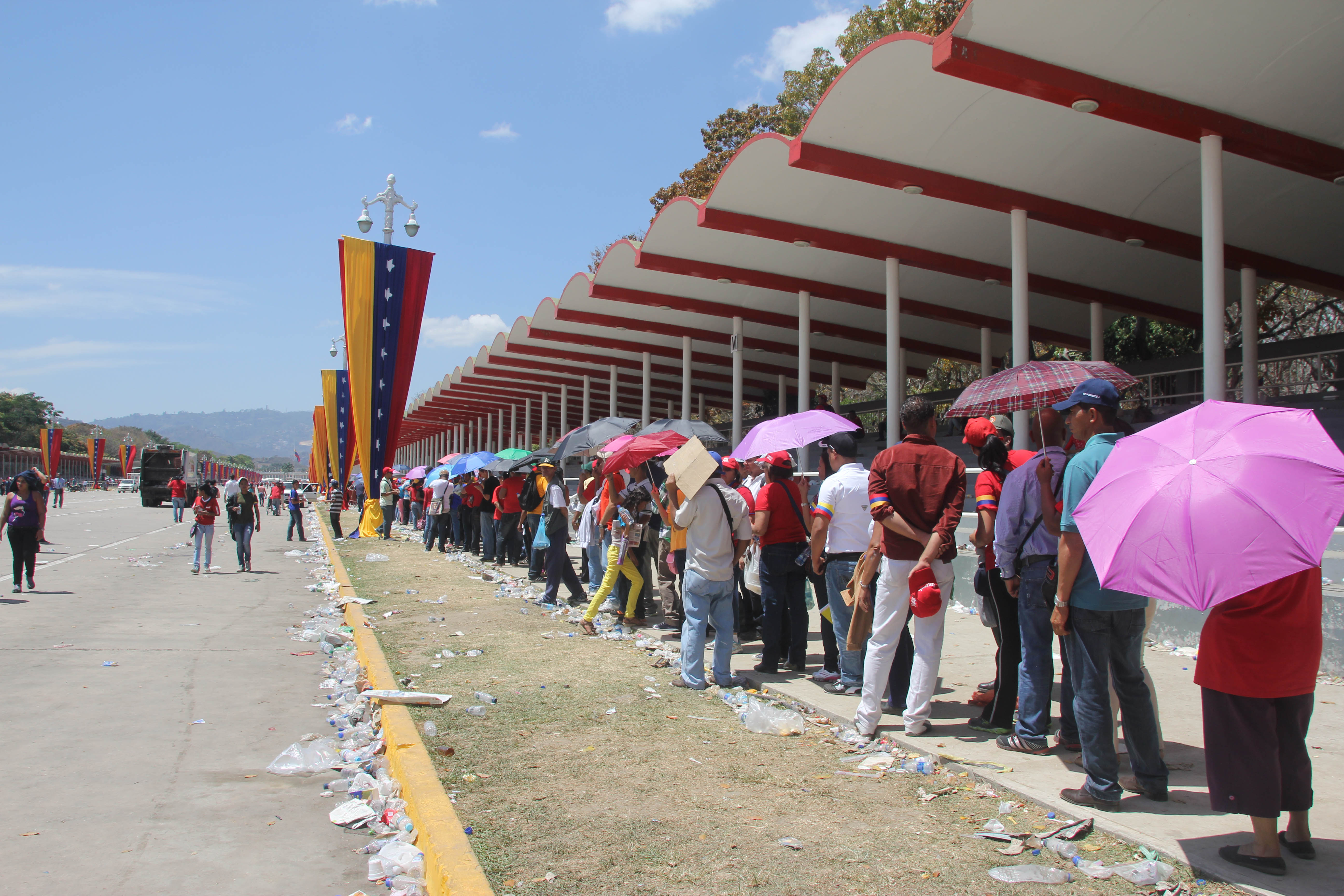 Depending on whom you asked, Chávez was a blessing or a dictator, a cult leader or a charismatic politician of the people, a president dedicated to his socialist cause or a megalomaniac dedicated to building his ego. Supporters considered embalming him, putting his body under a glass tomb and displaying it for generations to come, a la Eva Péron, Lenin and Mao Tse-tung. Detractors said they'd go nowhere near his funeral, let alone stop for a moment of silence. His supporters think he's something equal to Jesus. His opponents think he's gone to hell.
Read more at The Revealer
With Chavez gone, what do his young opponents want now?
The groups are filled with young people raised in a Venezuela in which Chávez was the defining figure. Many came from families who fled the country or whose businesses or lands were expropriated as part of Chávez's so-called 21st-century socialist revolution.
Read more at CSMonitor.com
The Man Behind Sen. Menendez's Troubles
In recent years, the containers have become one of the favored methods for drug traffickers operating in the Dominican Republic, security officials say. Perhaps that's because the country's sole X-ray machine scans less than 5% of the containers.
Efforts to solve that problem are at the root of a growing scandal surrounding a powerful U.S. Senator, New Jersey's Robert Menendez, chair of the Foreign Relations Committee, and a high-flying Florida ophthalmologist, Salomon Melgen, who is among the Democratic Party's biggest donors.
Read more at TIME.com
In the Dominican Republic, sex trade flourishes
BOCA CHICA, Dominican Republic — By day, Italian tourists pack the beach of this Caribbean seafront village. By night, prostitutes fill its streets.
"Prostitution is everywhere here; on the beach, in the bars, in the clubs," said Antonio Guzman, 36, a hustler who has worked the beach for 15 years and regularly connects tourists with prostitutes. "This place runs on it."
Read more at MiamiHerald.com
Trujillo's Voudou Legacy
DAJABÓN, Dominican Republic – A river called Massacre flows on the western edge of this town, crossing under bridges that connect Haiti and the Dominican Republic. Haitian women wash clothes in its shallow, clear waters, while their children play nearby. Haitians who refuse to wait for the official border crossings to open, walk across it, carrying baskets on their heads, filled with anything they can sell.
It's a peaceful scene that masks the river's history. Seventy-five years ago, bodies of Haitians killed under orders from the Dominican dictator Rafael Trujillo were thrown into this very river. Dominican soldiers and civilians chased down thousands of Haitians – or dark-skinned Dominicans – and killed them. They shot them, stabbed them with bayonets and slay them with machetes.
Read more at The Revealer
A new era of scrutiny for tax havens.
When Google established its international tax scheme, it followed a path well worn by other multinational companies. The company booked its sales from outside the U.S. at its international headquarters in Ireland. Most of that profit was then sent on to the Netherlands, largely free of tax. From there, the money went on to a well-known tax haven, the sunny islands of Bermuda. By the time the technology giant parked its money there, it had reduced its foreign tax bill to the low single digits. The scheme, known in tax avoidance circles as the "Double Irish" with a "Dutch Sandwich," helped Google save billions in taxes. Last year, for example, Google registered $4 billion in sales in the United Kingdom, but only paid $10 million in taxes in that European country.